The Rice Family
Boyd Rice has amassed earnings in excess of $3.8 million in the Western performance horse industry. Well respected professionally and personally, his successes have come from natural talent, hard work and family support.
Accomplished professionals surrounded Boyd as he grew up within the Rice family. His father, Sonny, uncles Raymond and Ronnie, along with his cousin, Tag, and brother, Matlock, all earn a living as cutting horse trainers. With all that genetic background in 'show biz,' one might deduce Boyd's career was a given. Not so – it took a lot of sweat and elbow grease.
In 1970, at the age of 5, Rice moved from Kansas to Brenham, Texas, with his father and mother, Gloria. The family moved around the Lone Star state as Sonny trained for a variety of owners.
Boyd was about 7 when began showing in youth cutting contests. Growing up he admired the way his father handled a horse, and recalls he was really the only coach he had as a youngster.
"I rode with him every day until I left there when I was about 21," Rice said of his father. "I learned a lot from him; he could make horses get around there pretty good. When you're young you don't learn what you could have. I can see looking back that I could have learned a lot more. It takes years and years of experience to get the feel, to get to being a trainer."
During a National High School Rodeo Finals in Douglas, Wyoming, Rice met Halee Reed. In 1983, just one week after high school graduation, he married his ranch-raised cowgirl and went to work for his dad in Corsicana, Texas.
The following year, Halee's parents, A.D. and Sharon Reed located property near their cattle ranch in Spearman, Texas. Boyd was anxious to get out on his own and made the move planning to operate a public training stable there. He soon discovered the Texas Panhandle was not exactly cutting horse central.
Rice spent 15 years mixing ranch work with starting colts and showing a few cutting horses. His reputation for sending home well-broke 2-year-olds steadily grew. As the horses he was turning out found success in the show pen, the quality of the colts entrusted to him improved equitably.
By 1998, Spearman didn't seem so far from Fort Worth, the nucleus of the NCHA. Bolstered by talent, aplomb and continued dedication, Boyd's career shifted gears as he began showing more and better horses.
Boyd and Halee had already shifted into family mode, welcoming the first of their three children, Tatum, in 1985. Their second son, Tarin, arrived in 1989 and they added a daughter, Trea, in 1997. Of course, all three kids have been involved with horses since they were very young.
As parents, Boyd and Halee are "all about family," and have always intermingled family fun and business. Trea is active in NCHA youth cuttings and loves basketball and other school sports. At all her athletic endeavors she has a Rice family cheering section.
Tarin married Katie Adcock in 2008 and in 2012 they moved to Jacksboro, Tx . In 2012 they started their own training operaion there in Jacksboro. Katie is a multitasker, helping at the barn and with Tarin's bookkeeping, showing in the non-pro division and competing in the rodeo arena as she finds time.
Tatum spent six years working for his cousin, Tag Rice. Tatum turned in his non-pro card just prior to the 2009 NCHA Futurity where he and Shes Twice As Smooth won the Limited Open Reserve Championship. He rode the same mare to finish fourth at the 2010 NCHA Summer Spectacular. In 2011 Tatum rode Austin Reys to his 1st ever Open Futurity Finals. Prior to turning professional, Tatum was consistently in the non-pro major event finals.
Tatum currently resides and trains out of Weatherford, Texas, with his wife Kylie Knight Rice at their new facility in Weatherford, Texas. T/K Cutting Horses is open for business and excepting outside horses.
Kylie, graduated from Texas Christian University in December 2011, has been riding since she was just 7. The 24-year-old won the AQHA Youth Working Cow Horse World Championship in 2005 and 2007 and in 2006 was the NRCHA Junior Stock Horse Champion in Reno.
Last year during the National Reining Breeder's Classic, she was the non-pro Level 1 and Limited Non-Pro Champion. She has also won the amateur titles at both the NRCHA Derby and Circle Y Derby. Most recently, Kylie was the NCHA Amateur Derby Reserve Champion riding her own Sunlight N San.
Boyd and Halee built their business implementing natural talent with a good work ethic, love of family and faith. They continue to integrate business and family, maintaining their solid values inside and outside the show pen.
Media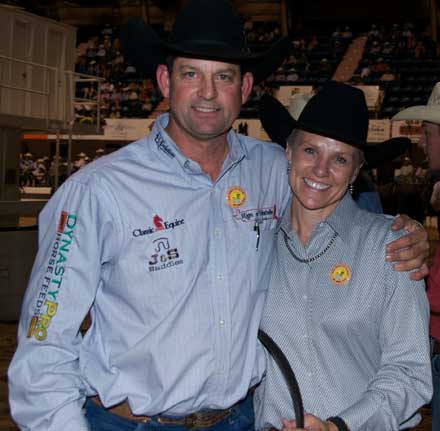 Boyd and Halee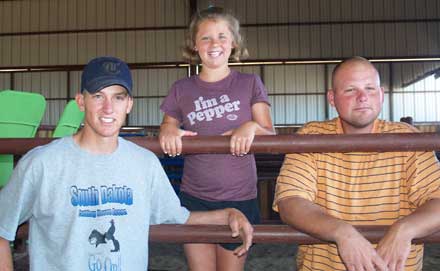 Tarin, Trea and Tatum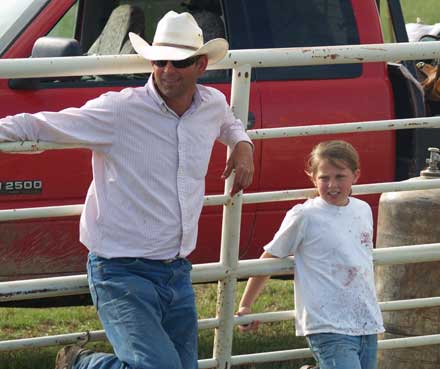 Boyd and Trea helping brand