Boyd Rice
Boyd Rice is more than a cutting and reined cow horse trainer, he is also a proven all-around horseman and cowboy – important traits in his chosen vocation. After years of hard work outside the show pen, it surprised no one when Rice established a successful show career in the Western performance horse industry. According to Equi-Stat records, Rice's lifetime earnings stand at over $4 Million. Rice rode Nesterote to his first National Cutting Horse Association major event open finals at the 1995 Bonanza Cutting. "That was a good horse too," Rice recalled with a grin. "I'd like to have him over again."
In 2001, Rice partnered with Can You Handle It to win the Memphis Futurity, his first major NCHA event championship. In addition to previously mentioned accomplishments, Boyd has steadily added to his career credentials, becoming a perennial finalist at NCHA and National Reined Cow Horse Association major events. He earned his first NCHA Open Futurity finals slot in 2002 riding Meradas Rockalena. The following year he finished seventh in the Futurity on Mighty Joe Merada. With his hard work beginning to pay off, Boyd never faltered. In fact, he was pursuing additional challenges.
Rice branched out from his cutting horse roots the same year when he entered the World's Greatest Horseman contest. His cowboy skills served him well, but the reining was a bigger challenge. With the help of fellow professionals, Rice's work ethic paid off. At the 2002 NRCHA Snaffle Bit Futurity, Rice rode his own Paint gelding, Deltas Color, to place sixth in the Open and third in the Limited Open.
Deltas Color continued to work for Rice Performance Horses as a turnback horse until his tragic death in a trailer accident in January 2012. By 2005, Rice's success in the cutting horse pen solidified even more and he was becoming a force to recon with at NRCHA major events as well. That year, Rice was the MillionHeir Cutting Open Champion on MH Bodees Starlena, the NCHA Open World Champion riding Bobs Hickory Rio and he claimed the NRCHA Snaffle Bit Futurity Open Reserve and Intermediate Open Championships on Playin Attraction. His earnings during that single year topped $676,000.
Boyd won the 2007 NRCHA Snaffle Bit Futurity Open Championship on Oh Cay N Short. In 2008, he rode Peptos Stylish Sue to the NCHA Summer Spectacular Championship. Picka Patcha Pepto and Rice claimed the 2009 NRCHA Snaffle Bit Futurity Open Reserve Championship. And, in stellar fashion, Third Cutting claimed both the 2009 and 2010 NCHA Derby and NCHA Super Stakes Championships. Third Cutting was reitred in 2011 but not before adding a few more titles to their performance record. The duo was the 2011 Bonanza Open Classic Champs, Reserve Champs at the Arbuckle, and Open Classic Finalist at the Summer Spectacular, and the Abilene Spectacular.
The next chapter for Boyd in 2011 started off with 3 Snaffle Bit Futurity Finalist Moonstruck Pepto, Mammas Money Talks, and Sixes First Cat. Boyd and Moonstruck Pepto ended up with the reserve title at the 2011 Snaffle Bit Finals. At the 2011 NCHA Futurity Boyd progressed both of his mares CR Sun Reys & CR Smart Brow April to the Open Futurity Semi Finals.
2012 started off with a heartbreaking trailer accident that took the life of Boyd's beloved Deltas Color aka Paint. Heading home from the Abilene Spectacular where he placed 9th in the Derby Finals on CR Smart Brow April, he hit a patch of ice and lost control of his rig. All the horses on the trailer made a complete recovery except for Paint who was killed instantly. Boyd returned to the show pen and continued to consistantly place both mares throughout year. At the 2012 NCHA Futurity Boyd showed two stallions Botero & CR First Tuff. He missed making the finals on CR First Tuff by 1/2 a point and end up 8th in the 2012 NCHA Futurity Finals on Botero. The 2012 NCHA Futurity will forever be one of the most memorable futurities for the Rice family. Boyd's youngest son Tarin was the Co-Champion with Boyd's uncle Ronnie Rice. Then to top off the year Kevin & Sydney Knight gave Oh Cay N Short to Boyd for Christmas. Oh Cay N Short aka "Coyote" was the horse that Boyd won the 2007 Snaffle Bit Futurity on. In 2014 Boyd "Coyote" won the Worlds Greatest Horseman title. They are the first duo to ever win the Snaffle Bit Futurity, and the Worlds Greatest Horseman. In 2014 Boyd was able to set another record in the arena. He showed CR Sun Reys to win the 2014 Mercuria NCHA World Finals, and earn an all time record composite of 924 points, with go around scores on 231, 229, 231, and 233 points. The best part of 2014 was the birth of Boyd's firts grandchild Charly Layne. She already had "BR' wrapped her around her little finger!
Media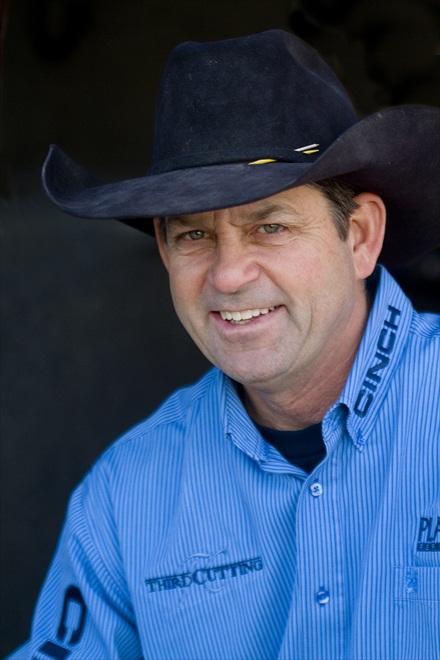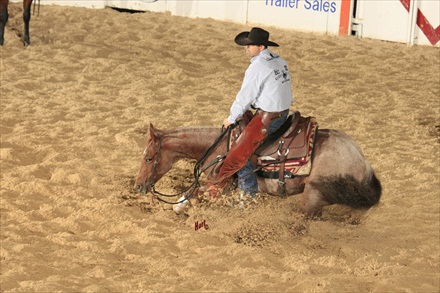 Boyd & CR Sun Reys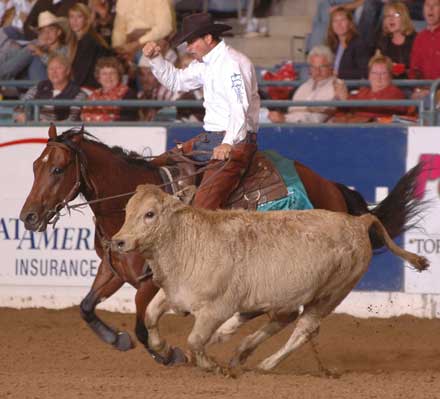 Boyd & Oh Cay N Short